Spring Opening Walleye Season
Warm weather is near as the ice begins to melt, we say our heartfelt goodbyes to winter as we pack away our ice fishing tackle. To warm our hearts with the fiery ambition to catch trophy spring walleye we mark our calendars for the 3rd Saturday in May.
Anglers who enjoy fishing walleye-rich waters of Northeastern Ontario should visit the French River Provincial Park. There's approximately 110 kilometres between Lake Nippissing and Georgian Bay. In our area, there is 65 square kilometres (40 square miles) to fish in the Lower French River Delta with varying depths ranging from 1 foot to 180 feet in the spring. The Lower French River system has 3 major inlets flowing into our section of the river. They are the French River, Pickerel River & Wanapitei Rivers that will help narrow your search along with 2 major outlets that flow into Georgian Bay.
Opening Day Tactics for Walleye
Depending on water temperatures and spring thaw, walleye will be in one of 3 stages of the spawning cycle – either pre-spawn, spawn or post spawn. In our 35 years of experience, when our season starts, walleye are normally around spawn and post spawn period. Walleye are known to lay their eggs between 44°F and 48°F (6.7°C and 8.9°C).
Walleye favour shallows and current in the spring and areas with windswept waves. Rocky shorelines should be a priority for any angler, especially if they see rocks that are baseball to basketball sized near windy shores or current. Besides giving the walleye fry protection from larger predators, it also holds a large amount of biodiversity and particularly bait fish that attract the older and larger walleye. As a side note, walleye can be seen in flooded forest areas while the water levels are still high as the various leaves and tree limbs block some of the harsh sunlight and give these fish prime hunting grounds they otherwise would not have.
Shortly after spawning, walleyes will retreat to nearby shallow bays and coves where the water temperature is typically hospitable for schools of shiners and yellow perch – their two favourite spring prey. However, there is an exception, the trophy-sized walleye (usually female) will quickly leave their spawning beds for deeper water where they target soft finned fish such as Cisco, Suckers and Smelt.
Suggested Fishing Tackle, Lures & Bait
Whether you choose to fish for numbers of walleye or for the trophies, gear can be as important as the location. The most traditional and reliable tactic for spring walleyes is to use live bait. Every lure an angler uses is an imitation of something else. While there are great imitation baits available and do work we have found that in early spring – live bait is more successful for hungry walleyes coming off of spawn.
Jigs are a great "go to" lure that pairs well with either live bait such as minnows:
Black nose, Common, Golden or Emerald Shiners
Long nose and White nose Suckers
Creek or River Chubs
Colour of the jigs only matter to a point. In the Lower French River, depending on the areas you fish can vary on clarity but the majority of the river is "tea stained". Suggested colours to use in the cooler waters would be reds, oranges, yellows, green and chartreuse for their flexibility and ease for spotting your retrieve. 1/16-ounce to 1/4-ounce jigs with your minnow combination can be tossed into the warm water of aggressive walleye to snap at it. If you plan on fishing deeper (approximately 10 – 20 feet) or in places with faster current, 1/2-ounce to 3/4-ounce jigs will let you bounce your lively lip-hooked minnows on the noses of the harder-hitting walleyes.
Additionally, worms are also a great choice, but work better in warmer water temperatures above 55°F (12.8°C). Other options do include soft rubber or plastic swimbait varying in size from 4 to 6 inches.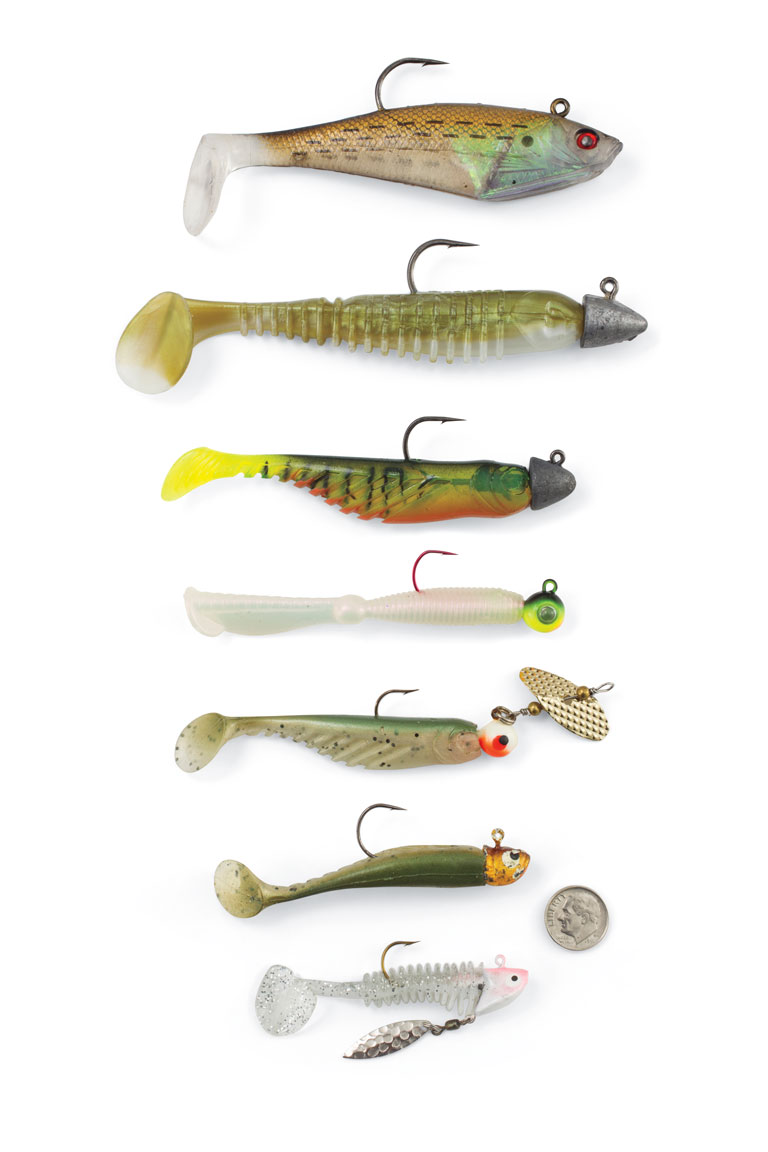 When fishing with a swimbait for the larger walleyes, a 7-foot long medium heavy action spinning rod will pair well with the larger lures. You can use your favourite brand of fishing line with a good steel or fluorocarbon leader for the pesky pike and sharp rock edges. First, when casting let the swimbait settle to the bottom. Next, snap your wrists for the bait's paddletail kicking action. Finally, let the bait settle and repeat the procedure as you slowly retrieve your lure. This allows you to make your swimbait imitate a hurt baitfish that is disoriented and with the colder temperatures it is important to mimic slower and more lethargic patterns of other fish.
For more information of French River walleye (pickerel) fishing please visit our other articles below:
Joe Barefoot, M.B. – Outdoor Writer & Photographer